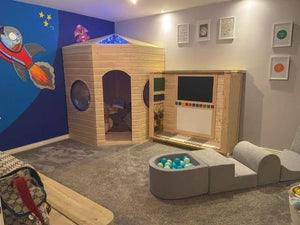 🔥Only 3 items left, order now!
Phone Gary and the team at Trampolines Ireland to answer any of your questions. 📞TEL 01 960 1641
Specification Summary:
Sensory Board:
Can you used to cover a fireplace
Complete with Blackboard and Whiteboard 0.6m x 0.8m
Sensory Mats, Mulch Timber and Wet Pour samples
6" x 6" worktop: 1.3m x 0.6m x 0.6m,
Spaceship:
Ideal for Kids Playroom / Sensory Room
2 x Bubble Windows
5 Sided Spaceship
12mm T&G
2" x 1.5" frame
Blue Perspex in Roof
1.5m x 1.5m x 2m high
Complete with floor
Can be custom made / sized to suit
Worktop and Cupboards:
6" x 2" Worktop
Latch Cupboards 2" x 1.5" frame
Black Ironmongery 
3.5m x 0.7m x 0.6m
Can be custom sized to suit
Wall Mural:
Kids Hand Painted wall assuming (2.4m x 2.4m)
Can be mixed tones & custom options
Price will very depending on final spec
Products will be delivered whole with finishing fixtures to be added
The Benefits of Shopping Trampolines Ireland
Finding The Correct
Size
Choosing A Safe Kid's
Trampoline
Value For
Money
Fast Delivery - 48 Hour Delivery
on most models.
Free Shipping over
€400