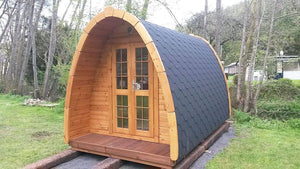 🔥Only 3 items left, order now!
Phone Gary and the team at Trampolines Ireland to answer any of your questions. 📞TEL 01 960 1641
Specification:
2.4mx4.0m
Two rooms inside
Solid floor (46mm)
Pod walls (46mm)
Roof (28mm) covered with bitumen shingles,
1 double glazed opening window in the back wall
French style double glazed doors (each with two hinges) with the lock and a handle.
The Benefits of Shopping Trampolines Ireland
Finding The Correct
Size
Choosing A Safe Kid's
Trampoline
Value For
Money
Fast Delivery - 48 Hour Delivery
on most models.
Free Shipping over
€400