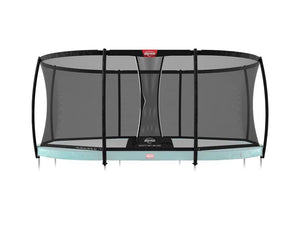 🔥Only 3 items left, order now!
Phone Gary and the team at Trampolines Ireland to answer any of your questions. 📞TEL 01 960 1641
BERG Safety Nets
The Berg Safety nets improve over the trampolines by adding Twin Springs, Thicker / deeper pads, a stronger frame and the deluxe safety nets.  Twin springs not only add more springs but they also alter the angle that they attach to the bed, the result is the user gets a larger 'sweet spot' to jump on.  Thicker and deeper pads help to make the trampoline safer.  The metal frame of the trampoline is not only made with thicker steel it is also provided with a black finish to help it last longer,
The Benefits of Shopping Trampolines Ireland
Finding The Correct
Size
Choosing A Safe Kid's
Trampoline
Value For
Money
Fast Delivery - 48 Hour Delivery
on most models.
Free Shipping over
€400